9credit Loan App Download: Apply Faster, Repayment
One of the lending apps in Nigeria is 9credit, which lets people apply for loans online right from their phones. There is no need for collateral, documentation, or outward manifestation of any kind.
In our previous guide, I went into great detail about everything you needed to know about the okash loan app. Today, I'm going to go into great detail about everything you need to know about the 9credit loan app, including how it operates, the interest rate, how to apply for a loan, how to repay a loan, and other important information.
What is 9credit loan app
With 9Credit, Nigeria's top mobile-based platform for personal loans, you may join for free and apply for a loan of up to 100,000 naira without providing any collateral or any documents.
The online lending service 9Credit is a registered trademark in Nigeria. The software aims to fulfill the financial requirements of customers for a variety of purposes, including the purchase of mobile phones, medical needs, bill payments, and much more.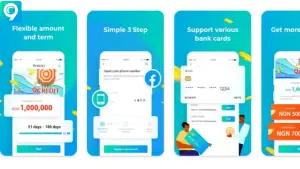 9credit loan interest rate
To help you understand what you're going to sign up for and the interest rate you may anticipate on each loan application, I'll provide you complete information on the 9credit loan interest rate in this part.
You should make an effort to check the applied interest rate when you are about to confirm your loan application because the interest rate may vary depending on the amount you want to borrow and the length of the loan. The calculation that will be included in this section is a basic and 9credit standard interest rate.
Breakdown of the 9credit loan offer:
Loan Amount: The app offers loans ranging in size from NGN 3,000 to NGN 100,000.
Tenure: You have a choice of a 62- to 120-day loan repayment period.
Interest rate: 0.07% daily (or 25.55% annually);
Processing fee: Depending on the loan amount and the application's specifics, this one-time fee may be anywhere from NGN 90 and NGN 2,000;
GST: According to policies and rules, 18% of the processing fee;
Annual Percentage Rate: up to 74.2% (including interest, processing fee, and GST);
How 9credit loan interest rate is being calculated
The interest on an NGN10,000 loan for two months at a rate of 25.55% APR is calculated as follows: Interest = NGN10,000 x 25.55% / 365 x 62 = NGN434, Processing Fee = NGN620 GST = NGN620 x 18% = NGN111.6.
The sum that must be paid is calculated as follows: NGN 10,000 + NGN 434 + NGN 620 + NGN 111.6 = NGN 11,165.6.
APR is (NGN 11,165.6 – NGN 10,000) / NGN 10,000 / 62 * 365, which comes out to 68.62%.
9credit loan requirements
There are a few things that need to be in place and are referred to as the prerequisites in order for you to be qualified for a loan on 9credit. After registering on the 9credit loan app, your chances of receiving a loan approval will rise if you meet the conditions.
Note the following prerequisites;
You must be a citizen of Nigeria and live there. The app is only available to residents of Nigeria.
dependable and large source of revenue
When registering, always provide accurate information.
Utilize a bank account that has had a large volume of credit and debit transactions recently.
To be eligible for a loan on the site, your age must be between 18 and 56.
9credit Loan registration – How to register on 9credit loan app
Download the app from the download part of this instruction, install it on your phone, and then register on the 9credit loan app.
Open the app, choose the Proceed option, and when prompted for access permission, select All to go on to the signup screen. Once you click the "Get Quota" button, you will be sent to a screen where you may input your phone number.
The specified phone number will get an OTP; input the OTP there and choose the Get Verification Code option. You will be sent back to your dashboard where you can finish registering your details.
How to apply for a loan on 9credit
Select the product you'd want to apply for, fill out the application's contents, then submit it after you've finished registering and giving the app your basic information.
You could be called for verification after the submission. If your application is granted, the final outcome will be shown in the APP and you'll get an SMS to let you know.
As soon as your loan application is authorized, you will be prompted to provide your permission. After the application is approved and the loan agreement is confirmed, the approved loan amount will be transferred into your account and an SMS notice will be delivered.
How to repay 9credit loan
All you need to do to pay back a 9credit loan is log in to your 9credit loan account, go to the loan section, and you'll see the due date and balance due. Select the Pay Now button.
You will be sent to the app payback page where you can choose the best and most practical payment option for you. To finish the repayment, adhere to the on-screen instructions.
9credit Loan app download
Name.                                             9credit loan app
Size                                                20MB
---
Version                                            Latest Version
---
Service                                            Loan Provider
---
Download 9credit loan app from Google play store
9credit loan APK
I'll provide you the 9credit loan APK and step-by-step directions for installing it on your phone in this part.
---
Name                                             9credit loan APK
---
Size                                               20MB
---
Version                                           Latest Version
Service                                           Loan Provider
---
How to install 9credit loan APK
Simply use the URL given above to download the APK file, then open your phone's gallery and find the download folder.
Find the file you just downloaded above and click on it to open it. An install button will appear; click on it to complete the installation. You may start using the app when the installation is finished, so wait till it's finished.
9credit Customer care number
Contacting the 9credit loan customer is the best approach to handle any issues you may have with it, and that will be done as quickly as feasible. The customer service for 9credit loan may be reached through the methods listed below;
Customer Service 9credit Send emails to [email protected]
Address for the 9credit loan office in Nigeria is Lawal Street in Oregun, Ikeja.
Conclusion
The 9credit loan app streamlines the loan application process for all Nigerians without the need for papers, collateral, or any other outward signs of support. I'm certain that with the comprehensive information in this guide, you'll be able to use all the app products and services without encountering any problems.
You can Apply For Quick Loan Using These Loan Apps
These loan apps are only for urgent loan for personal needs, they are all genuine loan apps