Zenith Bank Code: Check Balance, Airtime And Transfer
Zenith bank code to perform your banking transactions (transfer money, check balance, buy airtime, pay bills and lots more.
Zenith Bank USSD code for transfer and checking amount, Finance on Lending. Zenith bank transfer codes for 2022. Mobile banking along with USSD codes for transaction. Zenith Bank USSD codes for Airtime, Bank Transfer online banking.
The USSD code for bank accounts can be found as *966# and it is used to create a Zenith Account and purchase Airtime (Self and Third Party) as well as Transfer Funds. Check Balance on Account, update the BVN, etc.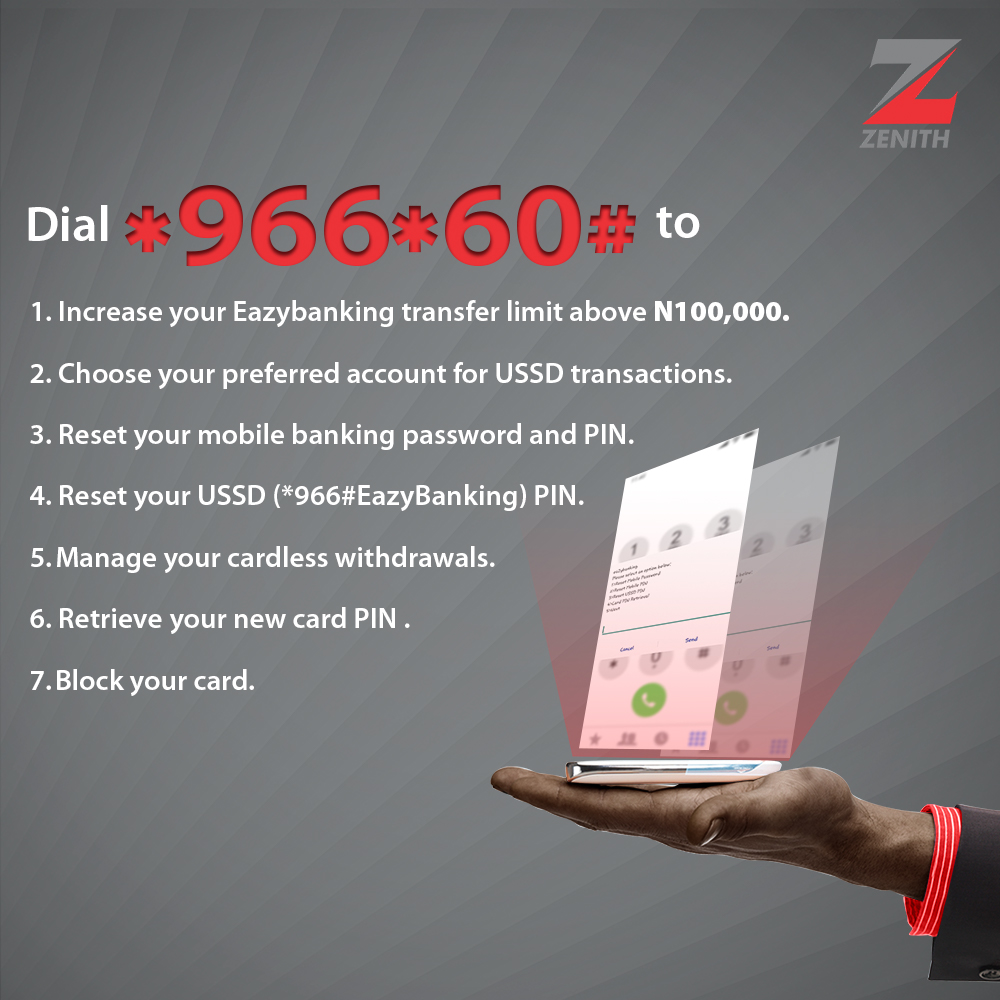 *966# EazyBanking is a simple rapid, secure, and inexpensive way to connect to account information for your Zenith bank account using your mobile phone with no internet access.
| Type of transaction | Zenith Bank EazyBanking USSD code |
| --- | --- |
| The Bank code for purchase airtime for self | *966*amount# |
| coupon code for recharging airtime of other users | *966*Amount*Mobile Number# |
| Zenith Bank Transfer Money Code | *966*Amount*Account Number# |
| Check Zenith Balance of your bank account | *966*00# |
| Code to make changes to Zenith Bank BVN details | *966*BVN# |
| Take control Zenith cardless withdrawal | *966*60#, and then select the option 7 |
| Deactivate EazyBanking profile | *966*20*0# |
How To Register For *966# Zenith EazyBanking
Simply dial *966*00# and your AlertZ number.
The user will be asked to enter the last four digits of your debit (ATM) credit card's number.
The next screen will show the name of your account and you will be asked to enter a 4-digit PIN
Make sure you have the correct 4 digit PIN
If you are successful, you'll receive a message " Retrieving your balance "
In return, you'll receive an SMS containing the balances of all your accounts.
Zenith Bank Online Account Opening Steps
Opening and with the Zenith bank account, it can be accomplished right from your mobile. Simply dial *966# on your phone and follow the instructions screen instructions.
instructions.
Account numbers will be generated automatically and delivered to you via an SMS. The forms for opening your account aren't required for signing up. Here is a brief guide to start an account with a Zenith Bank account on the internet with the USSD number 2021.
Contact the number *966*0# to begin.
It will request to provide your name and first initial to access an account at your banks.
Create 4 digit PIN.
Confirm PIN.
If you are successful, you'll receive a message thanking you for selecting Zenith Bank.
The SMS message is sent out immediately with your new account number.
Money Transfer USSD Code For Zenith Bank Nigeria
How do I find the transfer code of Zenith Bank? *966*Amount*Account # The code is that you use to transfer funds from a Zenith Bank account. With this code, you are able to transfer funds from your account to bank accounts of other banks (GTB, First bank, UBA, Access bank, etc.) or to another Zenith banking account.
Zenith Bank transfer codes for other banks as well as Zenith bank 2021. to transfer funds to your Zenith account by phone, dial *966*Amount*Account # and then complete the transfer with your Zenith 4-digit authentication pin.
Zenith Bank Code To Check Account Balance
Code to check the balance of Zenith bank 2021 Check balance on Zenith bank 2021 – It is the Zenith Bank USSD code to check your account balance via mobile phone number can be found at *966*00#using your phone number that is linked to account number Zenith Bank accounts. Simply put, to verify the balances of the accounts you have, all you have to do is dial *966*00# on your mobile and follow the prompts that appear on the screen.
Zenith Bank Code To Buy Airtime
To purchase airtime using your Zenith bank account. It is necessary to have the number that was linked to or used for the creation of your zenith bank account.
Zenith Bank short codes for buying and recharge your own airtime can be *966*amount# So, to purchase airtime using the phone number that is linked to you Zenith Bank account dial *966*amount#.
To recharge other services, you can utilize your Zenith Bank USSD code to purchase airtime for other users. This code is *966*amount*phone#.
How To Deactivate Zenith Bank Account
You can secure you Zenith banking account through deactivating it in order to block any debit transactions on your account in the event of fraud or scam.
Simply dial 966*911# on any cell. Enter your account's number and then input your AlertZ Mobile number. Click "1" to continue and immediately stop the account. Zenith Bank account. To deblock your account, just go to the nearest Zenith Bank branch.
More on Zenith Bank USSD Codes
| Transaction Type | USSD Codes |
| --- | --- |
| Opening Account | *966*0# |
| Check balance | *966*00# |
| Airtime Top-Up for Self/Others | *966*Amount*Mobile Number# |
| Transfer to Zenith Account/Others | *966*Amount*Account Number# |
| Update BVN | *966*BVN# |
| Pay bills (DSTv and PHCN) | *966*7*Amount*Customer ID# |
| Pay Zenith Billers | *966*6*Biller code*Amount# |
| Reset USSD Password & PIN | *966*60# |
| Deactivate Mobile Banking Profile | *966*20*0# |
| Deactivate Account | *966*911# |
| Block Card | *966*60# |
| Other Self Service | *966*60# |
Benefits of Using Zenith USSD Transfer Code
It works for all types of phones.
It's super-fast, easy and convenient.
It does not require an internet connection (data) on your phone to send money.
It allows you to send money to accounts in any Nigerian bank.
You can Apply For Quick Loan Using These Loan Apps
These loan apps are only for urgent loan for personal needs, they are all genuine loan apps